Since childhood, my 'holy' discontent has always been the injustices I see in society.  Particularly, injustices that are perpetrated by those in positions of power and influence against the rank and file members of the society. This has always invoked a 'righteous' indignation within me. It is sad when citizens are not afforded essential services such as the right to the highest attainable standard of health, and the right to clean and safe water in adequate quantities as enshrined in the Bill of Rights that the people themselves enacted. It is even more hurting when they lack access to vital public information that can empower them to keep duty bearers accountable, and face backlash when they demand it.
This inspired me to be a change agent in the community, and the Governance Internship Program (GIPro) by Hesabika provided just the kind of platform I needed. So, when I came across Hesabika Trust and read what it was all about, I was very delighted to know that there are people who have dared to dream and had the audacious faith that Kenya's governance system can indeed work for its citizens.
I am persuaded that it is not enough to demand that the government plays its role; citizens must also be accountable to their own, and willing to stand up and be counted. Being a communication officer, I am alive to the role that public communication can play in promoting effective governance and social accountability. Public communication provides information to citizens, thus ensuring transparency and participation, bridging the divide between government and citizens. It allows the public to gain access to relevant information and represents an avenue for citizens to engage with public administration on issues that matter to them. It is in this spirit that I took up my internship at the State Department for ICT and the Digital Economy, particularly in the Public Communications Department. As I do my work, I have sought to stay true to my mantra from one of  Martin Luther's inspirational quotes:
"Human progress never rolls in on wheels of inevitability; it comes through the tireless efforts of men willing to be co-workers with God, and without this hard work, time itself becomes an ally of the forces of social stagnation. We must use time creatively, in the knowledge that the time is always ripe to do right."
Hesabika has not only accorded me a chance to an organisation of my choosing but also attached a mentor and provided an induction training!. The training facilitated by the Kenya School of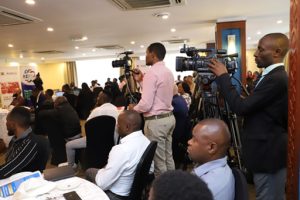 Government (KSG) was thorough and timely. I was therefore equipped with the right set of knowledge as I went into the Public Service, and given a headstart on the structure and functions of government and the interactions of its three arms. At KSG, my hopes for a better public service were rekindled and values re-emphasized. Each day as I go to the office, I know that it is such a privilege and honour to serve the public in whatever capacity. They are the boss, and therefore I live under the designation 'public servant', as should all those who work in all government departments, state agencies and institutions. At the Ministry, with every photo taken and video shot I know that it is part of the public communication process to avail information to the citizens. This information is meant to inform citizens so that they are aware of what their government is doing to improve their standard of living and general well-being. No doubt, informed citizens are capable of making sound decisions that impact their lives and hold the government accountable. I have learnt important skills relating to my work with the help of friendly colleagues at the office. They have been accommodating and caring. They are always willing to help me learn and enrich my experience at work. Some of these skills include video editing, photography and videography. I also continue to enrich my Public Relations writing skills, which were only theoretical before this internship. I have been doing media reviews for the Ministry, which are forwarded to the Cabinet Secretary, and some of the edited videos are forwarded to media houses for broadcast, mostly posted on our social media handles.
Through mentorship, I have realised that as a public officer, my dressing and behaviour must be within the code of conduct of the organisation. I have also learnt from my mentor, who himself is a long-serving public servant, that professionalism is one of the distinguishing factors in public service. As well, in every assignment, diligence in the production of final output is always key, there is no room for mediocrity! This is particularly important, because public service is not only service to citizens, but also, ultimately to God before whom everyone will be called to account. This inspires my commitment to excellence!
Although it might seem a small contribution, I believe that whatever Hesabika is doing now will make Kenya's Public Service a better place in the fullness of time. If this nation is to realise the aspirations contained in Article 10 of National Values and Principles of Governance, then players like Hesabika need to be involved more than ever. And what an honour for me to be part of this growing movement of future change makers – beginning where I am!