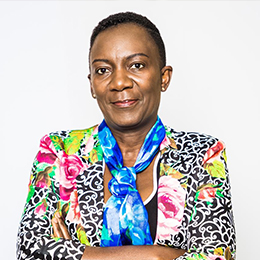 Hon. Justice Mogeni was recently appointed as Judge of the Environment and Land Court by H.E the President. She is the former Chief Executive Officer of the Council of Governors. She is an advocate of the High Court of Kenya and a Human Rights Advocate. In her previous engagements, she worked at the Transition Authority as the Chairperson of the Legal and Intergovernmental Committee. Prior to this she held a wide range of posts in various organisations, including Human Rights Officer and Gender Focal Point at the UNDP Kenya Country Office;  Gender and Advocacy Development Advisor; Child Rights Advisor with SNV Development Organization; Legal Officer with Federation of Women Lawyers and Legal Advocacy Officer with Legal Resources Foundation.
She holds a Masters Degree in International Studies and a Bachelor of Laws from the University of Nairobi.
Hon. Mogeni is passionate about promoting women and children's rights. She is the Chairperson of the East African Women Lawyers Association; founding member of the Coalition on Violence Against Women, The Cradle Children Foundation and The Senior Women Citizens for Change. She has championed the rights of women through various published works including, Women's Silent Cries: Cases of Violence against women in the Printed Media (1988-2001), the book dubbed 'A look at Child Abuse, its perpetrators and the Law (Publication of the SNV- Street Children Program) and Witchcraft or Gendercide?  Article written for FIDA Kenya Annual Report May 2011.
Hon. Mogeni is an active member of the International Commission of Jurists (Kenya Chapter), Federation of Women Lawyers Kenya and the Law Society of Kenya.
She received an award from H.E Uhuru Kenyatta, President of the Republic of Kenya where she was honored as Moran of the Order of the Burning Spear (MBS) for her good work in the devolution space in Kenya since 2013.