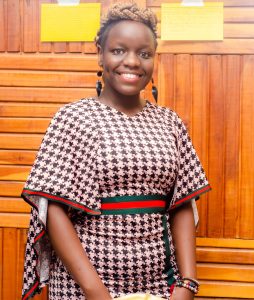 My inspiration to join the Governance Internship Program (GIPro) stemmed from the awakening reality that I was finishing Campus.  I needed a place where I could step into after completing my studies. More importantly, I was in need of a place that could add tangible value to my career development as a Political Scientist and Public Administrator. When the opportunity to join GIPro presented itself, I was excited about the 12 months of diverse growth opportunities ranging from training. This included an induction course on Public Service at the Kenya School of Government and Kenya Judiciary Academy, ongoing mentorship, coaching and to cap it all, an internship placement in one of my government departments of choice! The mission of GIPro became clearer to me when we started selecting our internship placement areas of choice and participating in the whole orientation program, especially the session on Integral Mission.
I started to reflect critically on my area of interest and the issue that made my pulse race as I considered my top options for the internship; it was clear to me that my heart goes out to the excluded social groups and marginalized regions in Kenya and beyond. It occurred to me that the challenge of resource allocation had been an issue of discontent to me for the longest period of time, especially since I started studying Public Finance Management during my 4th year of study. I would constantly observe that certain communities and regions in Kenya were lagging behind while others were much ahead economically. The State Department for Devolution was an excellent fit for me to learn more about resource allocation in the various counties in my pursuit to become a devolution expert. I was honored to be placed there as my top priority by the Public Service Commission and deployed to the Administration Department.
In the Department, I have been performing both administrative roles as well as duties regarding the Transport Section. For instance, I have been the custodian of the State Department's keys at Telposta Towers, as delegated by my supervisor. As well, I have ensured that Devolution staff have a conducive working environment through office maintenance. In the Transport Section, I have been involved in sorting, filing and compiling of transport ledgers for verification by the Internal Audit Unit, preparing and maintaining motor vehicle inventories for the State Department for Devolution as well as assisting in fueling and servicing of motor vehicles belonging to the Department. My biggest highlights during my internship included; being able to develop a Volunteerism Policy for the World Scouts Parliamentary Union Kenya, a parliamentary Caucus in the National Assembly that is domiciled at the State Department for Devolution. As delegated by the Transport Officer, I developed an organizational structure for the Transport section. This has helped to bring order and efficiency in managing transport.
I have been privileged to serve in the Secretariat in various platforms such as; the induction workshop of County Officials of Garissa, Wajir, Mandera and Tana River Counties on the Valuation and Transfer of Assets of the defunct local authorities and assets of the national government relating to devolved functions; and the operationalization of a circular letter from the Office of the Prime Cabinet Secretary under the guidance of the Heads of Department. Having had the opportunity to engage with the top management during the preparation of the Performance Contract and the Medium Term Plan, I was amazed by how thorough the leadership was, putting in hours on end to make sure that they produced the best. This encouraged me to keep pushing for change, seeing that there is a whole team ahead of me who see something greater than themselves.
I have been greatly convinced of God's intention for me in the internship program as He affirmed his calling over my life as a God of purpose, order and intent. It was during the difficult moments that God made his vision over my life clearer. I have started to think critically on how God would want me to give back to the community through the opportunities and gifts that he has given me by empowering the underprivileged in Kenya and Africa at large.
In addition to these, I have also had an amazing mentorship experience and privileged to have two mentors who have given me diverse yet life-changing lessons on lifestyle issues, political issues, health matters, work-related issues, among others. With their emphasis on intentional living, they have been a critical component in propelling me to my purpose.
What has stood out for me throughout my internship experience are the questions: What kind of person am I? Who am I going to be? How do I plan to live my life every day? What kind of qualities am I going to build? Have I stepped out of my own self-interest to serve my country in whatever capacity? These are the questions that are helping me define who I am and want to be.  As I journey through the GIPro journey, my conviction is all the more clear: I am called to serve  something bigger than myself.