Samuel Maina Macharia
Ministry of Interior and National Administration.
Civil Registration Services-Statistics Department.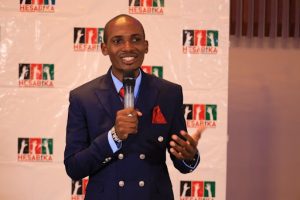 Before starting my GIPro internship journey with Hesabika, I researched internship experiences from those who had done it before, especially through the Public Service Internship Program (PSIP). While some were very encouraging, I found others that were quite discouraging. Interestingly, it was also during this time that a certain conversation about the plight of  interns was trending on twitter, and people started coming out with horrible experiences. I almost grew cold feet about the internship program but my  experience at Civil Registration Services (CRS) has turned out to be a wonderful experience, for which I am grateful to God.
Working with the CRS  has primarily focused on data analysis and report writing. I have had the privilege of working with a team of statisticians and analysts to collect, organise, and analyse data. We then use this data to make reports necessary for policy making.
Through my internship so far, I have learned a lot about the importance of accurate and reliable data in the decision-making process. I have also gained valuable skills in data analysis and report writing. One of the most important lessons I have learned is the importance of attention to detail and thoroughness when working with data. It is crucial to ensure that the data is accurate and complete.
Another interesting aspect of my internship has been the opportunity to learn about the various systems and processes involved in civil registration. I have learned about the different types of data that are collected and analysed, such as birth and death records, and how this data is used to inform government decisions and policies.One of the major sectors that greatly benefits from our data is the health sector. Our statistics have helped draft policies on maternal and child healthcare. It's from this data that  the government is working on the Universal Health Care policy.
I have also learned the importance of clear and effective communication when working with a team. As a team member, I have been tasked with the responsibility of analysing data from one of the regions, summarising it and later sharing the data with our team leader who makes the final consolidated report from all the reports submitted by the whole team. Collaborating with my colleagues and my supervisor has helped me to develop my skills in effective communication and has helped me appreciate the power of teamwork. I am now able to clearly  communicate my ideas and to incorporate the feedback into my work. This has been invaluable!
Through my work, I have come to realise that public service is not just a job; it is  a calling. It is a way to serve my country and make a positive impact on people's lives. I am constantly reminded of a statement from Hon. Lillian Arika and Dr. Victoria Miyandazi (University of St. Andrews) during our Induction at the Kenya Judiciary Academy (KJA): the files we handle in government offices are not just papers, but people! This thought guides me in my daily work, as I remind myself that the data I am working on represents real individuals, not just numbers. This understanding motivates me to give my best effort and approach my work with a sense of responsibility and care for the individuals that it impacts.
Through my work, I have come to realize that public service is not just a job; it is a calling. I am constantly reminded that the files we handle in government offices are not just papers, but people!
No doubt, my internship at the CRS statistics department has been an incredibly valuable experience. I have truly enjoyed working in its conducive and warm environment, which has been totally different from what I heard from people about government offices. I am grateful for the exposure opportunities and guidance provided by my supervisors and colleagues, and looking forward to the coming months for continued learning.
Outside work and professional growth, a unique aspect of the GIPro program by Hesabika Trust is the mentorship journey. They coupled me with a values-driven mentor working in government, and in my case, he serves as one of the deputy directors in the National Treasury. I have enjoyed every step with my mentor. One crucial lesson I have learned is that you cannot transfer wisdom and insight to someone else. The seed of knowledge and potential is already present in each individual. A great mentor nurtures that seed, providing the necessary nourishment and environment for it to awaken, sprout, and flourish. I am grateful to have had a positive mentorship experience, where my mentor has offered immeasurably great guidance and support in both my personal and professional life. Our conversations have granted me a deeper understanding of my strengths and weaknesses, and my mentor has assisted me in recognizing areas where I can grow and develop further.
My mentor takes his relationship with me seriously and has gone out of his way to make sure I feel included in his life beyond our regular mentorship meetings. For instance, he has invited me to spend weekends with his family, giving me the opportunity to observe how he interacts with his loved ones and providing a window into his personal life. These experiences have been priceless, and I have learned so much from observing his family dynamics and the way he navigates various situations.
In addition, he has also taken me along to some of his speaking engagements, which has allowed me to witness him in action and learn from his expertise. Whenever he invites me to attend one of his speaking engagements, he always makes a point of introducing me to the other attendees and highlighting my passion and interests. This has allowed me to make valuable connections with his network . I feel incredibly fortunate to have a mentor who is willing to share his life with me in such meaningful ways. I believe that this kind of relationship has the potential to be truly transformative, both for my personal and professional development.
Indeed, what an amazing journey of growth it has been for me, even as I seek to be developed into a values-driven leader and make my contribution to a transformed public service.