As an Intern at the Kenya Institute of Curriculum Development (KICD)), I am now convinced that influencing the education sector is the bull's eye for social transformation, and the kind of leadership needed for that. This is because, for good or ill, every child is a product of  our education system. So, with a Bachelor in Education (Arts) and currently putting the final touches on my Masters in Education (Administration), the dream of such possibilities is slowly unfolding for me. The Governance Internship Program (GIPro) has given me the platform and confidence that this dream is possible, by staging me with like-minded, values based young leaders in other fields and mentors to hold my hand. As an educator- a profession that mothers all other professions- I have no doubt that my positioning perfectly aligns with my vocation as a teacher-leader.
My placement at the KICD came as the country was grappling with the storm of its biggest transition in the education field- from the 8.4.4 to the Competency Based Curriculum (CBC). Through Hesabika, I got the opportunity to join the curriculum developers and government in adding value to what was going to be Kenya's tool for change. Holding the dreams and ambitions of the Kenyan child and youth at heart and mind, I have aspired to stand up to be counted as an Intern at the KICD. I believe that every small contribution I make will be worth the effort.
My work at the Institute entails constantly evaluating, verifying and validating course materials for learners in the various grades.  I also contribute to the reviewing, writing and editing of curriculum designs for Junior and Senior Secondary School levels and Diploma in Secondary Teacher Education level. We work alongside numerous stakeholders to ensure that the new curriculum is comprehensively developed and effected as intended. These activities and roles have given me an opportunity to not only learn but also make a meaningful contribution.
Over the last six months at KICD, I have come to learn the value of excellence in my work. Every file, document, book or resource I see on my desk represents the Kenyan child's dreams and ambitions. For this reason, I commit to handling these 'dreams' with utmost excellence, devotion and urgency, driven by a desire to honour God with my work. There is always the pressing urge to flap recklessly through pages to get done with it, approve and have them published. However, I have committed myself to look into every section, page, sentence and word critically to ensure accuracy. Every book is my tool for change; even a 20-paged storybook about 'hen and goat' is absolutely worth the commitment. In the long run, in nurturing every learner's potential, values are also injected into the nation – one a learner at a time!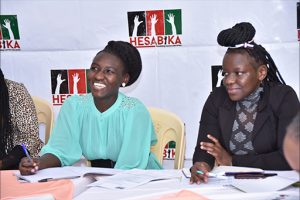 As I do my work, I have been motivated by the idea that besides the text books KICD produces, the learners will also carry moral values, competencies and skills in their bags, into the years ahead. With this, I will have made my small contribution in helping lay the foundations for the next generation of ethical leaders and change agents for Kenya. I believe that this is critical for our country's vision of  sustainable development, growth and shared prosperity, when no child is left behind. This conviction has been reinforced by my mentor, who has been my biggest cheerleader! A certified coach, she has   constantly challenged and encouraged me not to lose sight of this goal, holding up to me a mirror of valuable feedback every time we meet. She gives me the confidence to go out boldly and make my mark, however small, by expanding my perspectives on issues of governance and leadership in the country, which ultimately will determine whether the dream of the Kenyan child comes to pass. As a teacher- leader in the making, this too is my dream: to raise an army of values-based individuals, planted in all professions for Kenya's transformation. Therefore, I have my eyes on the Kenyan child's school bag, with one aim: to help produce learning content that instils positive  values, skills and competencies. I dream that, together with so many other colleagues,  this investment will grow and translate to well-nurtured Kenyan youth, who will be equipped as the next generation of change agents for the transformation of our country. It is this dream that keeps me awake in late hours, as I do my 'homework' of refining the quality of the contents in the Kenyan child's school bag.
This is how I translate my concern into action.