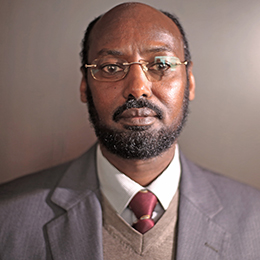 Prof. Galgalo, is the immediate former Vice Chancellor of St. Paul's University in Limuru, Kenya, a position he held for 10 years from 2010 to 2019. He is a Professor of Systematic Theology with a PhD in Systematic Theology from the University of Cambridge. He is a born-again Christian, an ordained minister in the Anglican Church of Kenya and an honorary Canon of All Saints Cathedral, Nairobi, Kenya. He currently serves as the assistant bishop of All Saints Cathedral Diocese, Kenya and also holds additional responsibility as the Provincial Secretary of the Anglican Church of Kenya in-charge of Mission Strategy, Research and Linkages.
Prof. Galgalo has experience spanning over 20 years in teaching, supervision, research, mentorship and administration at the university level. He has continued to make enormous contributions to the world wide global Anglican Communion and has served as a board member in many boards including as a chairman in  Board of World Vision Kenya (2010-2013), chairman of the Advisory Council to the Bible Society of Kenya (BSK, 2014 -), Kivulini Trust (2009 -) and currently is a board member of the Ecumenical Disability Advocacy Network (EDAN) of WCC.
Prof. Galgalo is a recipient of many awards in recognition of his service including the most recent award of the Cross of St Augustine, awarded by the Archbishop of Canterbury for Services to the Anglican Communion. He has experience as a speaker at many fora and delivers academic lectures the latest being the 2020 Henry Martyn Lectures, a prestigious biennial lecture series sponsored by the Cambridge Centre for Christianity Worldwide, University of Cambridge.
He has keen interest in inter-contextual and contextual theologies, and theological education. His research interests include developments in contextual theologies, especially African Christianity, inculturation Christologies, Theological Education and Church Relations. He is the author of African Christianity: The Stranger Within, 2012 (Zapf Chancery, Eldoret); and co-edited, Theological Education in Africa, 2004 (Zapf Chancery, Eldoret), and also Theology, Disability and Society, 2010 (Zapf Chancery, Eldoret); and have published several book chapters and articles in refereed Journals on various subjects including African Christology, Church Growth, Syncretism and dangers of ethno-Christianity, Eucharist, Theological Education, Theology in the University, God and Disability, Human Sexuality, Christian response to Terrorism, Leadership and Mission Strategies, etc.
He is a family man married to Jane Galgalo with three children.